Customer service
Frequently asked questions
Product & price
1.1 What is the difference between good, very good & like new?
We chose to offer our phones in 3 different variants according to the number of signs of use. This way, you clearly know what to expect.



Like new:

The iPhone looks like new. The screen is always completely scratch-free and the casing has no to minimal signs of use barely visible to the naked eye.

Very good:

The iPhone may show slight signs of use such as a few small scratches on the casing. The display is virtually scratch-free.

Good:

The iPhone has clearly visible signs of use. The casing and screen will show visible scratches




Each device is always carefully tested and works completely like new. In addition, you always get a 24-month warranty.

For more information and sample photos, click here.
1.2 I would like to visit and check out the phones
Besides our main activity as a webshop, we also want to give you the opportunity to see some of our devices. Our Apple experts will gladly assist you with personal advice to ensure you make the right choice. To avoid waiting times, we work by appointment. Book your appointment here through our calendar
1.3 Where do the phones come from?
All our phones we offer are from business or shop returns. For example, consider a large to medium-sized SME that gives their employees the very latest iPhone every X number of months to keep them happy. The previous devices are tested and checked by us. Severely damaged or used devices are rejected and functional devices are taken over.

Due to our years of experience, devices are also taken over from shops or online shops where the customer has returned a new device within the 14 days and thus it can no longer be sold as new.


1.4 What is the battery capacity of the iPhones?
All our refurbished iPhones come with a battery health between 85-100%.

Last year, the average battery capacity of our refurbished iPhones was 94%.



Lithium-ion batteries are designed to work at peak performance within a range higher than 80%.

On top of this, we also test the number of charge cycles and the age of the battery. If it fails any of our various tests, it is replaced. We do not replace or remove healthy batteries to avoid unnecessary electronic waste. This way, we offer a sustainable solution that you can enjoy for many years to come.


1.5 Can I trade in my old iPhone?
Great that you want to give your iPhone a second life. We buy functional devices as well as devices with a defect or damage. To receive a clear price offer, we recommend visiting our service point in Zaventem. To avoid waiting times, you can make an appointment online. Click here to make an appointment.
1.6 Do the refurbished iPhones include VAT?
Yes, all refurbished iPhones on our website are indicated with prices including VAT. As a business buyer or employee, you will therefore be able to deduct this VAT in your accountancy.
Order & delivery
2.1 How can I track my order?
We will keep you updated on the status of your order via email. As soon as your order is ready to be dispatched, we will send you an email containing a Bpost tracking link. This allows you to track your shipment. Bpost will send you an e-mail on the day of delivery with an estimated time of delivery.
2.2 What are the shipping options?
Your order will be sent safely and registered via Bpost. You can choose from 2 different delivery options for this:

Home delivery:

Your parcel will be delivered to your chosen address by the courier. This is often during office hours. An e-mail with tracking information will inform you of the estimated time of delivery.

Collection from a Bpost collection point:

Indicate under shipping method that you want to collect your order from a Bpost point near you. You will receive an e-mail or SMS as soon as it is available for pick-up. The handy thing is that this is often available for pick-up after working hours. So you choose when it suits you!

Find a Bpost collection point near you.


2.3 Does Reswipe sell to businesses?
Yes Reswipe also sells business to companies. Would you like to place an order for your company? Our passionate team of Apple experts will be happy to help. Starting from 3 units, we will make a customised offer according to the wishes and needs of your staff.
Contact our customer service team at: [email protected]
Your personal account manager will get in touch as soon as possible.
Warranty & repair
3.1 How long do I have warranty?
3.2 What is covered by the 3-year warranty?
Our Reswipe warranty covers all technical defects, such as problems with the camera, speakers, microphone, etc. Defects caused by physical or water damage are not covered. All our iPhones come with a 36-month warranty. Defects in the device's battery or charging accessories are covered by 12 months warranty. You can also choose to purchase an additional year of warranty with it.
3.3 Help my phone has a cracked screen or other damage
Unfortunately, physical damage to the phone does not fall within the usual warranty terms.

But not to worry! Our repair service can repair your display at a competitive rate

When the repair is carried out by our technicians, you will keep your warranty. Since we can guarantee the quality of the repair.




Report your return through our return form

After reporting your return, it will be accepted by the repair service as soon as possible and you will receive a prepaid Bpost return label from us.



Do you prefer to come to our service point in Zaventem?

Take a look at our calendar to schedule an appointment:

This way, you will receive help immediatly and your device will be repaired within 30 minutes.


3.4 How do I send my phone to Reswipe's repair service?
You can do this easily and quickly via our online return form.

After registering your return, it will be approved by the repair service as soon as possible and you will receive a prepaid Bpost return label from us.




Be sure to turn off the ''find my iPhone'' function after this, otherwise we will not be able to start the repair. You do this in: Settings > Your name > iCloud > Find my > Find my iPhone.

After this, delete your device and pack it carefully. Our Reswipe box or sufficient bubble wrap provides good protection.


3.5 How long does a repair take?
If there is a problem with your device, you can send it to us for repair. We will then repair or replace your device.


By using our own repair service of repairmen with years of experience, we do away with the standard 3-5 week repair time that other providers make you wait for without hesitation. We understand the importance of a well-functioning device.


Dispatch with Bpost takes 1-2 working days. Processing your repair can take 1-3 working days. We will then send you the phone back with Bpost.
3.6 How do I disable the 'find my iPhone' feature?
Go to 'Settings
Tap your name, followed by 'Find My iPhone'
Turn off the Find My iPhone switch
Enter your Apple ID password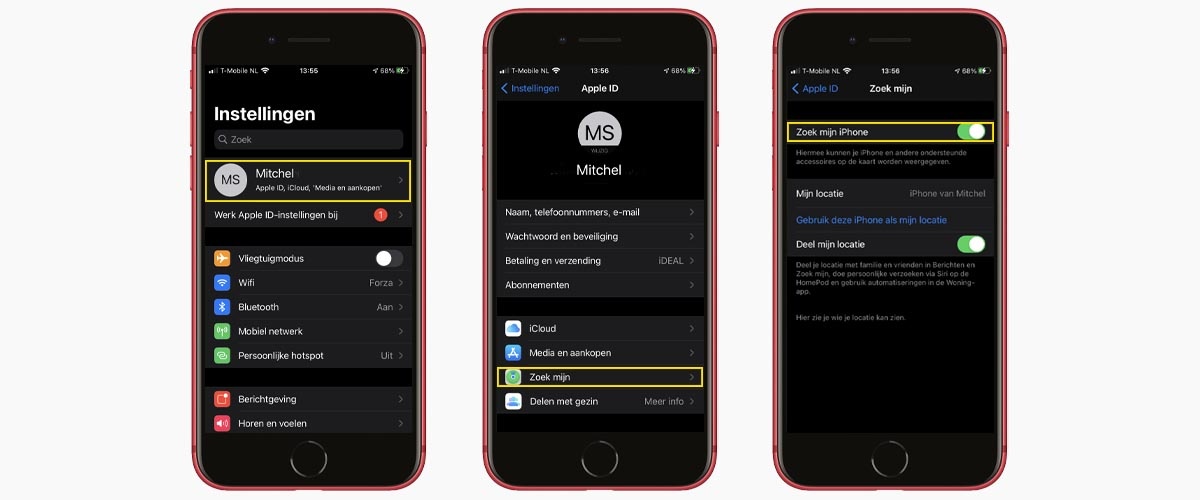 3.7 I forgot to disable the 'find my iPhone' feature for the return.
Enter your email address and password at icloud.com/find
Click on 'all devices' in the top centre
Click the iPhone in question in the list
Then click 'Remove from account' and confirm your choice.
Then open this list again by clicking on 'all devices'
Click on the 'X' next to the phone in question
Confirm that you want to delete the phone
Exchanges & returns
4.1 How can I return my product?
If you want to return your phone or accessory for an exchange, refund or warranty, please fill in our return form first.


After registering your return, it will be approved as soon as possible and you will receive a prepaid Bpost return label from us.



Important when returning your iPhone:

Be sure to disable the ''find my iPhone'' function, otherwise we will not be able to start the repair or the return will be refused. You do this in: Settings > Your name > iCloud > Find my > Find my iPhone.

After this, delete your device and pack it carefully. Our Reswipe box or sufficient bubble wrap provides good protection.

Does the device not turn on? Then read the instructions on this link to delete your iCloud account via computer.
4.2 What return options do I have?
Within 14 days of receiving your product, you have several options:
Exchange your iPhone for a different device, model or colour free of charge according to availability and your requirements.
Have your phone repaired
Return your phone free of charge for a refund.
You can indicate your choice in our online return form.
Payment
5.1 What payment methods do you offer?
Online, you can pay by Bancontact (card and App), credit card (Visa or MasterCard), or a manual transfer.

At our service point, you can pay with Ecovouchers, credit card, cash and Bancontact.
5.2 Can I pay with eco vouchers?
Yes, you can pay with ecocheques when making purchases at our physical service point. We accept electronic ecocheques from Sodexo, Edenred and Monizze.
5.3 What is Reswipe's bank account number?
Have you chosen to pay by bank transfer? Then you can transfer the money to our account number: BE90 0689 4736 0732. Always state your Order or Invoice number when paying.
5.4 Will I receive an invoice with VAT?
Yes, all our products and prices are displayed including VAT. at checkout, you have the option to choose between a private purchase or a business purchase. This way, all your business details are immediately displayed on the invoice.